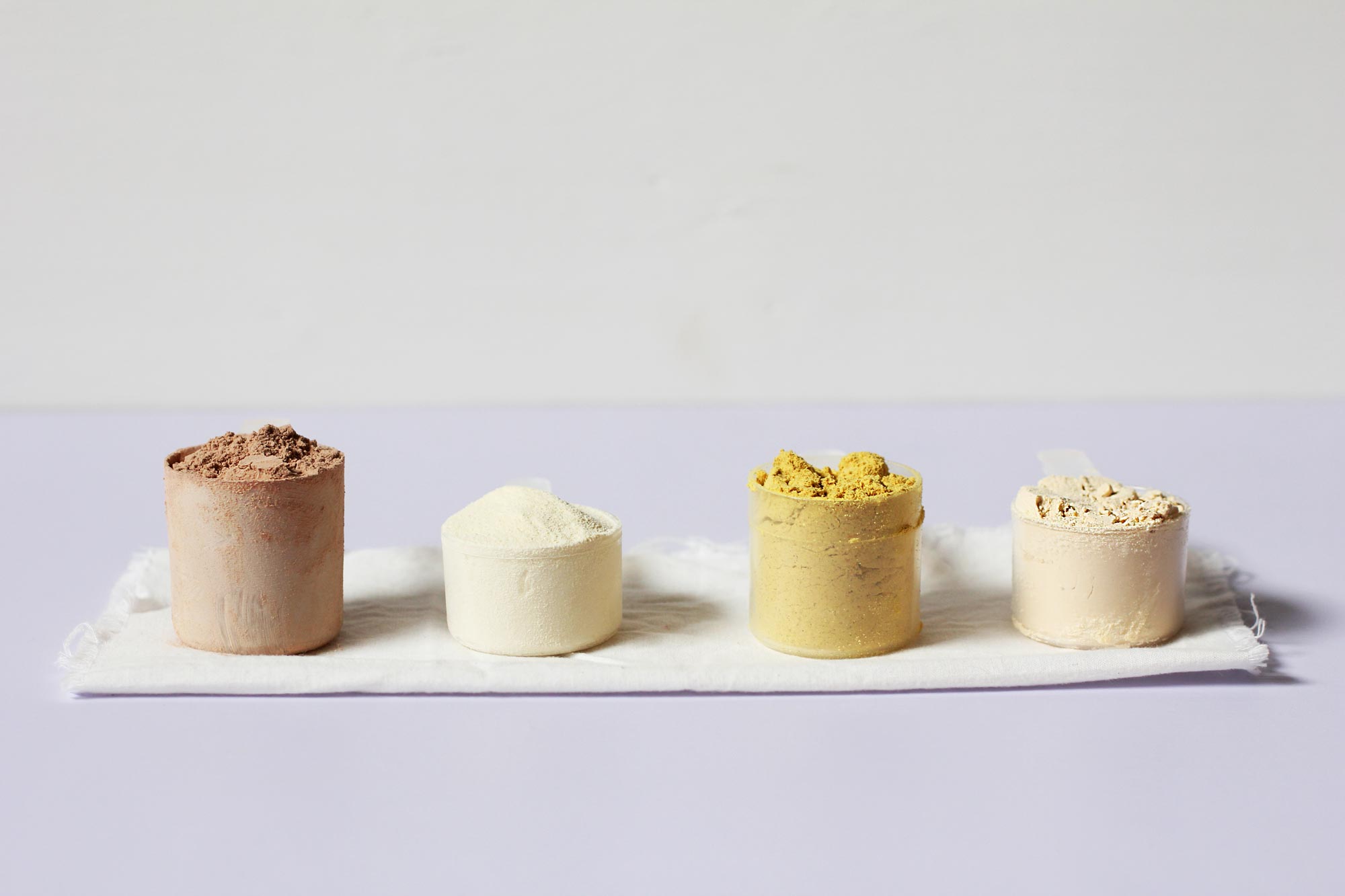 I had gum graft surgery this past March. I had put the surgery off for two years, due to the multiple inconveniences (although I wish I hadn't avoided it for so long). The biggest inconvenience for me wasn't closing down my patient schedule, but having to follow the mushy food diet for 4-6 weeks following the surgery. My periodontist called it a soft foods diet, but I like to use the word mushy.
Mushy protein sources include tofu, scrambled eggs, yogurt, jello, or protein powder shakes. Nut butters are mushy, but they are also sticky, so they were not an option. I'm allergic to both soy and eggs, making tofu and scrambled eggs out of the question. I ate organic nonfat Greek yogurt intermittently, but not everyday, as I normally have to limit its consumption or it upsets my belly. What's left, right?! My main protein sources were jello and protein powder.
I'm hyped up about mushy protein sources because protein is vital for surgical recovery. Protein gives your body the building blocks to repair itself. If you are healing from any kind of surgery, focus on eating protein.
Having a protein powder shake or smoothie was the only way for me to maintain an adequate protein intake on the mushy food diet. I didn't use any old protein powder, and neither should you.
I buy, use, and consume these four protein powders because I trust their quality.
There are a lot of junk protein powders out there. I only use protein powders made with the same standards as the supplements I recommend to my patients. Not all supplements are equal!
If you want to read more about how to find a good protein powder, check out this article.
PUREPALEO PROTEIN NATURAL Chocolate FLAVOR by Designs for Health
1 scoop = 21 grams of protein
ADVANTAGES: paleo, soy-free, egg-free, gluten-free, dairy-free, sugar-free, low carb, allergen friendly
DISADVANTAGES: not vegan
This unique, allergy friendly protein powder is made from beef. Frozen banana and raw cocoa powder pair really well with it. However, remember that bananas are not the greatest thing to be eating for optimal blood sugar regulation. Use the least amount of banana that will give you the taste you can enjoy.
Try this Chocolate Peanut Butter Banana Shake! It tastes like something I bought at the Shake Shack (because I buy shakes there…).
Chocolate Peanut Butter Banana Shake
1 scoop PurePaleo Protein Natural Chocolate protein powder
Smuckers Peanut Butter
your choice of milk
small or half frozen banana
raw cocoa powder
vanilla
stevia
vital whey NATURAL VANILLA BY WELL WISDOM
1 scoop = 15 grams of protein
ADVANTAGES: soy-free, egg-free, gluten-free, sugar-free, low carb, fuels glutathione production, anti-inflammatory, immune modulating, made from grass fed cows
DISADVANTAGES: not vegan, not paleo, more likely to be allergenic
This whey protein powder is tasty with health benefits unlike any other protein powder. Whey protein powder helps your body make more glutathione. Glutathione is your body's best antioxidant (think anti-aging + brain boosting power). Vital Whey protein powder also contains bovine immunoglobulins, which are anti-inflammatory and modulate your immune system at the intestinal barrier.1 Not all whey protein powders contain bovine immunoglobulins, but this one does!
Try this Glutathione Go-Getter Shake! The raw kale also helps your body make glutathione, so it's a double win!
Glutathione Go-Getter Shake
1 scoop Vital Whey Natural Vanilla protein powder
full fat coconut milk (not too much)
water, optional
frozen blueberries
raw kale
stevia to taste
Opticleanse GHI chai flavor by xymogen
1 scoop = 13 grams of protein
ADVANTAGES: vegan, soy-free, egg-free, gluten-free, mostly low carb, added vitamins + minerals, added antioxidants, supports gastrointestinal health, boosts detoxification, contains methylated B12 & methylated folate, allergen friendly
DISADVANTAGES: contains dried cane syrup, not paleo, lower amount of protein per scoop
This protein powder doesn't fit in with the rest, since it is not a protein powder running solo. This vegan protein powder rocks because of all the other "stuff" in it. I recommend this protein powder for travel, due to the extra vitamins, minerals, and antioxidants it contains — it's a decent way to make up for what your diet lacks when you're on the go. And, you can't beat a protein powder that contains METHYLATED folate and METHYLATED B12. You won't find folic acid in this stuff. I love the chai flavor but they have other flavors available.
The chai flavored OptiCleanse GHI protein powder pairs really well with a frozen banana. However, some people I know drink this stuff plain, mixed in water. Play with it! For now, you can try the recipe below, which is how I use this protein powder for my kids.
Banana Chai Detox Shake
1 scoop OptiCleanse GHI Chai protein powder
raw spinach or kale (not too much greens or the kids will complain)
frozen banana
your choice of milk
Optimal Protein by seeking health
1 scoop = 17 grams of protein
ADVANTAGES: vegan, soy-free, egg-free, gluten-free, low carb, sugar-free, simple, no flavorings, allergen friendly
DISADVANTAGES: not paleo
This protein powder has no bells and whistles in the flavor department, but ironically, it doesn't need any. It has a smooth, palatable flavor that pairs well with almost anything, making it really versatile. I use it for protein powder shakes and it works well in homemade protein bars.  It's also made by one of my favorite supplement companies (Seeking Health). Note that this one is vegan but not paleo because it is made from rice and pea protein.
My favorite way to eat this one is in a smoothie with Califia unsweetened vanilla almond milk, frozen peaches, and greens. This smoothie combo tastes like dessert.
Peaches and Dream Shake
1 scoop Optimal Protein protein powder
Califia almond milk
frozen peaches (not too many because, sugar)
raw kale or spinach
Where to Find Them
Most of these protein powders are only available through healthcare practitioners. You can get the Vital Whey Natural Vanilla protein powder on Amazon, but know that
I've been growing increasingly hesitant to recommend the purchase of any kind of supplements on Amazon
. Yet, I know how hard it is for those of you who don't have access to a Naturopathic Physician's office dispensary! You can order the Optimal Protein by Seeking Health directly from their website at
www.seekinghealth.com
. If you are a current patient at Archerfriendly Wellness or would like to become one, you can special order any of these protein powders at my
office in Snohomish
.
References:
1. http://www.ncbi.nlm.nih.gov/pubmed/25882614
Thanks for reading! Enter your email to send new articles directly to your inbox:
Enjoy More Archerfriendliness
Cranberry (Vaccinium macrocarpon)
Switched to CFLs for Earth Day? Beware.
The Gluten Free Eating Husband?